A recent Google Chrome update indicates they're taking a much more aggressive policy on when to allow popups.
If the turboDial app does not launch when you click the green asterisk, or if you see the below error message when launching turboDial, then the Chrome Browser is blocking turboDial from launching.
turboDial was unable to launch. Please find instructions for allowing the turboDial popup at this page: http://tlinks.me/popup
The is an issue with Chrome not remembering which sites you allowed popups for, or because you never allowed popups from sites mentioned below.

To resolve this issue please follow all of the below instructions:
1. Copy this URL: chrome://settings/content/popups – and paste it into your Chrome Browser address bar to go to your Chrome pop up manager.
2. Add the below URLs to your "Allow" list, replacing "ABC123" with your Infusionsoft app name:
https://turbodial.biz:443
https://ABC123.infusionsoft.com:443
https://keap.app:443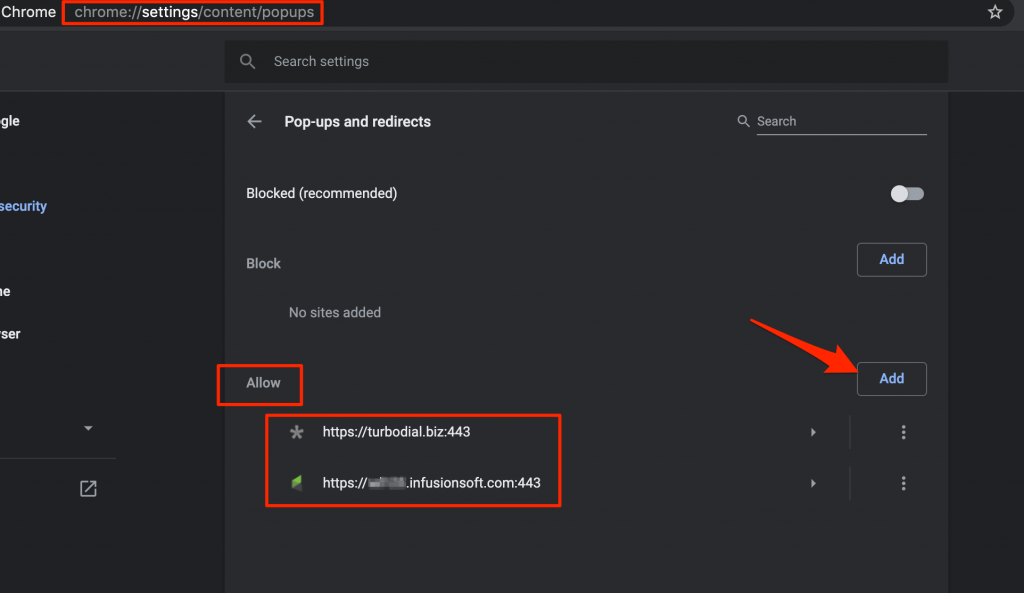 3. Copy this URL: chrome://settings/cookies – and paste it into your Chrome browser address bar. It will open up your Cookie Settings.
4. DO NOT block all cookies—turboDial cannot work properly without using cookies. Our cookie settings are set to block third-party cookies: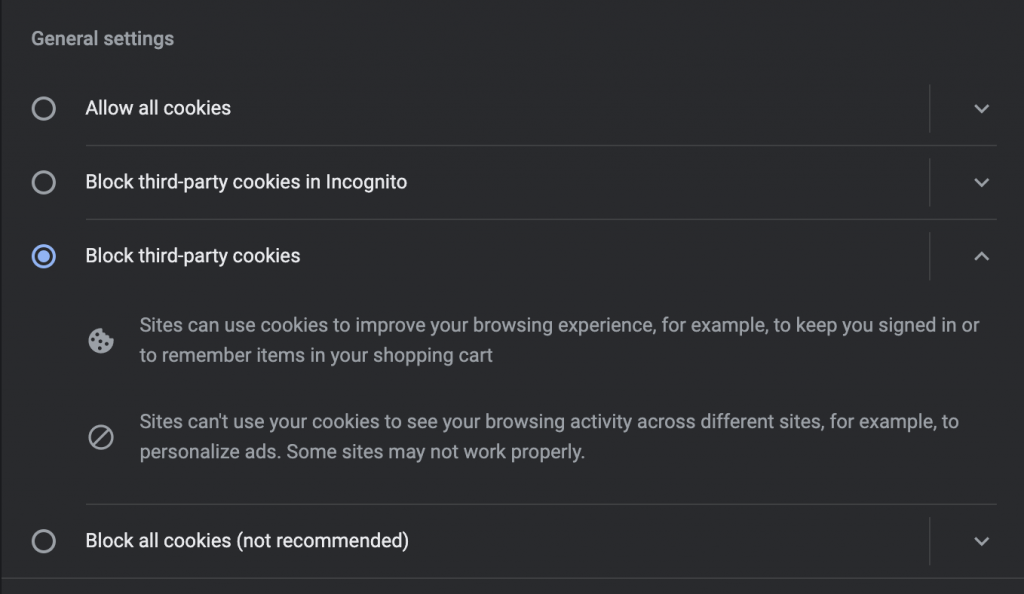 5. Close turboDial before proceeding.
6. Launch turboDial by clicking the the turboDial asterisk in the upper righthand part of your address bar then clicking the "Launch turboDial" link:

NOTE: If you cannot get past step 4. using Google Chrome, you must:

Remove the turboDial browser extension.
Download the turboDial browser extension for Chrome:
https://chrome.google.com/webstore/detail/turbodial-linker-for-infu/nkndmcmfidfnbmoknabldpcfalhebaep

Contact the main or secondary account owner and ask them to send you and email they received from turboDial with Subject line: turboDial: Retain these Web Browser instructions then follow the instructions in that email to authorize the turboDial browser extension.
7. If you see the blocked pop-up icon (shown below), click it and allow turboDial pop-ups, then try launching turboDial again.
8. Launch turboDial from toolbar asterisk, then click an asterisk next to an Infusionsoft Contact. turboDial should then set itself to that Contact's information.
If the above steps don't work for you, please email us at support@turbodial.biz and include a video of following these steps and it not working, if possible.