Click on any of the following questions to jump to the answer:
Questions & Answers
Sometimes I need to manually dial an extension after the call is answered. How do I dial digits in turboDial?"
The number keys on your computer keyboard can be used as a dialing keypad. Pressing number keys will create the digit tones you need to dial an extension. For example, if you call a number and want to reach extension '123' then when the call is answered and you are prompted for the extension press the 1 key, then the 2 key, then the 3 key on your PC keyboard.
If during a call you are prompted to "… enter the first few letters of the name …" you can dial those letters using the letter keys on your PC keyboard. For example, if you want to dial 'Smith' you should press the 's' key, then the 'm', then the 'i' key, then the 't' key, then the 'h' key on your PC keyboard.
The Dial Pad can also be temporarily displayed and you can click the digits on it to dial the extension. (more information here)

Be sure your cursor is not planted in the Call Notes box in turboDial. When your cursor is in that box your keystrokes are recorded as typed notes rather than digit tone key presses.
Why was my call immediately disconnected before anyone could answer?
The most common reason for an immediate hangup is that the phone number is invalid. In this case the calls will never succeed. You might try calling the number from a mobile phone or a landline so you can hear if there is an announcement.
The second most common reason is that the number called is busy and there is no voice mail system associated with their phone service. In this case the call will succeed later when the number is not busy.
The third most common reason is that the telephony network in the location where you are calling has a congestion problem and could not deliver the call. In this case the call will succeed later when the congestion is reduced.
In all of the above cases Twilio disconnects your call immediately rather than charging you to listen to a busy signal or a phone company announcement.
You may see message on the turboDial panel saying the line is busy: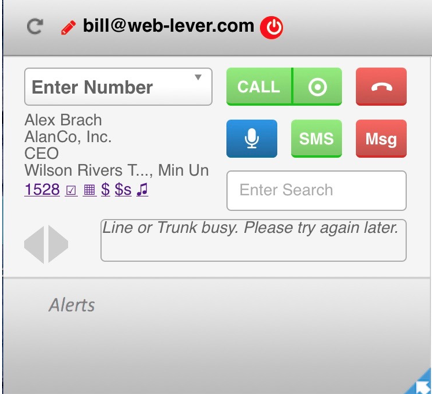 Can I call a number that is not in Infusionsoft?
Yes, please see this guide document.


Should I use 'This PC' or a phone as my Calling Device?
There is no single recommended answer. For most people it will be a matter of preference. In some cases the capabilities of your hardware and Internet connection will dictate the answer.
When to use "This PC"
You like the reduced cost from Twilio. In North America a call from your PC/Mac to a phone is 1.75 cents/minute and a call from your phone to a phone is 3 cents/minute.

You like the convenience of using your headset

You like the convenience of using your PC/Mac for all of your tasks

You like the voice quality achieved with a good headset and Internet connection
When to use a phone as your calling device
You have problems getting your PC's sound controls to use your headset speakers and microphone

You want to walk around, or even leave the building while you're talking and don't want to be tethered to your PC/Mac with a headset

Your Internet connection is unreliable, for example you use WiFi and when your neighbor runs their microwave your connection drops
The majority of turboDial calls are made using "This PC".
How do I stop a call before it connects?
For any type of call, from "This PC" or from a Calling Device, you can simply press the Hang Up button on the turboDial panel and your call will be immediately disconnected.
If you are calling from a Calling Device and do not have ready access to the turboDial panel then you must first answer the device when turboDial calls it and then you can hang up that device before it begins connecting to the person you had planned to call. Note that it is important to answer the call to your device – if you don't answer and your voice mail system answers instead then your voice mail system will be connected to the person you were calling. If you have changed your mind and don't want to continue the call then you should first answer the call to your device and then hang up.
If you call one of your contacts and it doesn't ring and goes directly to voicemail instead, one of two things has happened.
The contacts mobile carrier has designated the Caller ID you were using as spam. Or;

The contact has blocked your number on their mobile phone.
Both cases would lead to your call going directly to voicemail. An easy fix for this is to use a different number or acquire a new phone number to use as a Caller ID.