Inbound SMS Alerts in the turboDial Panel on your PC
With the Hosted Voice upgrade or the Enhanced Inbound add-on you will also receive an alert message on your turboDial panel when an inbound SMS is intended for you such as when a contact replies to an SMS text message you have sent. No configuration steps are needed to use this feature.
When you send a Text Message and the contact who received that message replies you will be notified in your turboDial panel with the screen pop Alert and hear a chime.
Then when you are ready you can click the blue up-arrow inside the Alert and change the focus of the turboDial panel to view the contact that sent the message.
Or, and this is very important – you can leave turboDial focused on the current contact and click the SMS label on the left of the Alert – that will pop up the SMS Send & Receive panel for the contact associated with that SMS and allow you to read the text message history for that contact and send a reply. You can even be on a phone call in turboDial and continue that call while replying to a text message from a different contact.
In the example shown below, turboDial is focused on Alan Bradford. But if the SMS button next to the SMS Alert is clicked it will open the SMS Send & Receive panel for Alal Brach.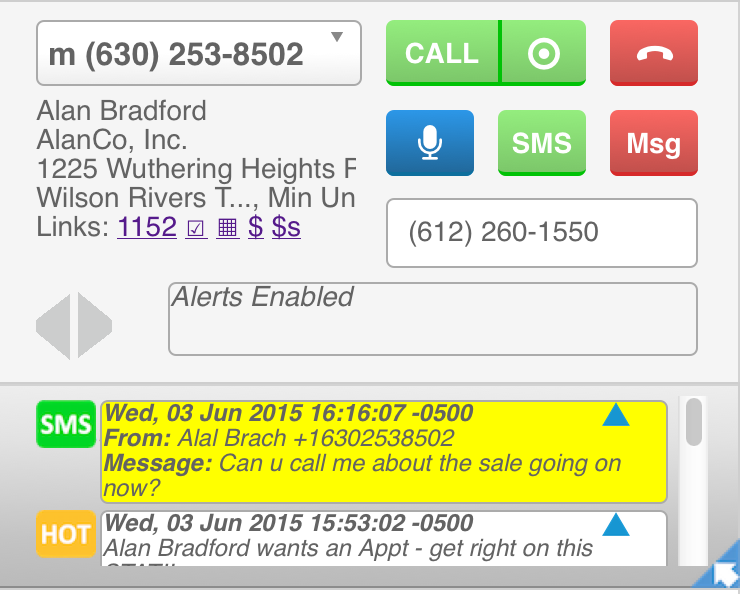 SMS 2-Way Chat Window on your PC
With the Hosted Voice upgrade or the Enhanced Inbound add-on the SMS send window will remain open after you send an SMS message and will display replies that are sent back from the contact. With this window you can easily engage in a 2-way chat session with the contact, and you can have multiple of these 2-way chat windows open for chat sessions with multiple contacts at the same time.
The image shows an example message sent to the contact and the reply received back a short time later: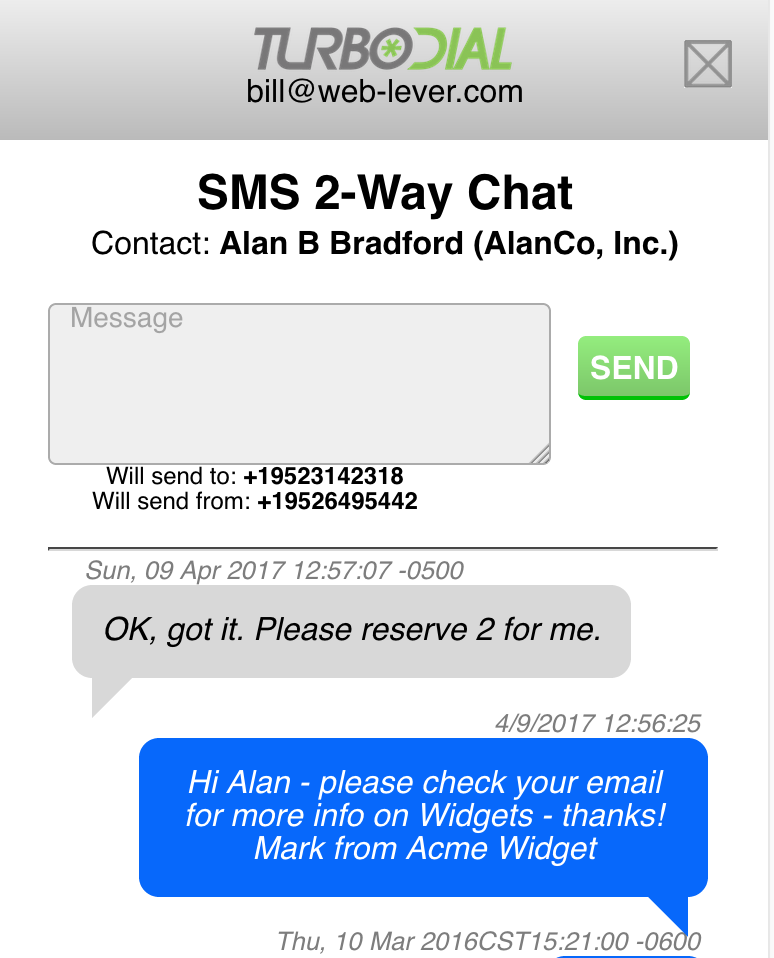 Video Demonstration
Watch this video demonstration of the SMS Alerts feature. Note the video also demonstrates the Hot Lead Alerts feature which is not part of Hosted Voice.
Inbound SMS Alerts on your Smart Phone
If your user ID is authorized as a Mobile User in turboDial then you can install the turboDial Mobile App (native) on your smart phone and receive an immediate push notification on your device when an inbound SMS is intended for you.
That push notification also gives you access to send a reply SMS via turboDial right from your smart phone.
See this guide section for more information.