The following instructions are only for turboDial users who have account owner privileges when logged in to turboDial.
Getting Started

Launch your turboDial app and login to it as a primary or secondary account owner.
After you do, you will see a green plus symbol to the right of Inbound&SMS:

Click that symbol and a page like the one below will appear: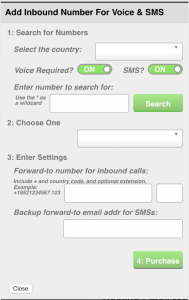 If you don't see that page then you will not be able to use these steps to acquire a number. Please refer to these instructions instead.
Steps to Acquire a Number
The numbers and sections below refer to those in the image shown above.
1. Search for Numbers:

Select the country
: Pick which country the number should be based in. If you don't see the country you need please contact
turboDial support
for further assistance.
Voice Required?: If you plan on making or receiving calls with the number, leave it set to ON.
SMS?: If you plan on texting or receiving texts with the number, leave it set to ON.
Enter number to search for: Enter a 10-digit number you'd like. You can use asterisks as wildcard characters (a wildcard character in this case is one that can assume any digit between 0 and 9, inclusive). For example, if you know you want a phone number with a "480″ area code but don't know or care what you want the remaining 7 digits are, enter 480******* ("480″ followed by seven asterisks.) turboDial will return all numbers that are available that match the criteria, which could be zero.
2. Choose One:
Assuming there's at least one number matching the criteria you enter, click the drop down selector and pick a number.
3. Enter Settings:
These settings must be configured before you can buy a number. They are required because they determine who gets notified in events when turboDial can't route notifications to someone based on past communications or lack thereof.
Forward-to number for inbound calls: Enter the number for the phone you want the call forwarded to when someone calls this number. The longer of the two fields is for the full 10-digit number prefixed with +[COUNTRY CODE], where [COUNTRY CODE] is replaced by the country code for the number you want the call forwarded to. For example, if the number you want called is a North American number, the country code is 1, and an example number might be +131001234567. The righthand shorter field is for any extension that needs dialed.
Backup forward-to email addr. for SMSs: The "Backup forward-to email address" is the email address turboDial forwards emails to if the number receives an SMS that can't be routed to another email address. Such examples occur when a) an inbound SMS is received from a number not associated to a Contact in your Infusionsoft app and b) the number is associated to a Contact in your Infusionsoft app, but there's not enough information to determine who the email should be forwarded to.
4. Purchase
Click the button to buy the number.
Click here
to learn how to configure or delete an inbound number.
Video:
IMPORTANT:
Policy in the U.S. does not allow an SMS to be sent from a "spoofed" number. That is, the "from" number of an SMS text message must be associated with the actual device that sent the message. So for that reason you are not able to use your Cell Phone caller ID number as the number you send an SMS from in turboDial. Instead, you must acquire a number in turboDial and use it as the number you send from.
Optional: Auto-Create Contact Record
In Global Options, the account owner may set an option to Add Contact on Inbound Call/SMS . See Global Options for more information.