Infusionsoft Dashboard Reports can provide a powerful summary of the effort and effectiveness of the resources you apply to making and receiving phone calls. turboDial creates the calling details you need to build many different kinds of Dashboard Reports.
You can use standard Infusionsoft report generation tools to track the results of your turboDial calls. turboDial automatically attaches a Call Note to the contact record after each outbound call, and if you have the Hosted Voice upgrade Call Notes will also be created for inbound calls. Those Call Note records provide all the data you need to build your reports.
turboDial Reports are created in the Infusionsoft->Admin->Reports section of your account. The Report type to use is "Task Note Report". Each of the reports you display on your dashboard will be based on a Task Note Reports you have previously saved. On the Infusionsoft Dashboard page, the Add Widget button is used to display Saved Reports on the Dashboard.
Example Saved Report on Dashboard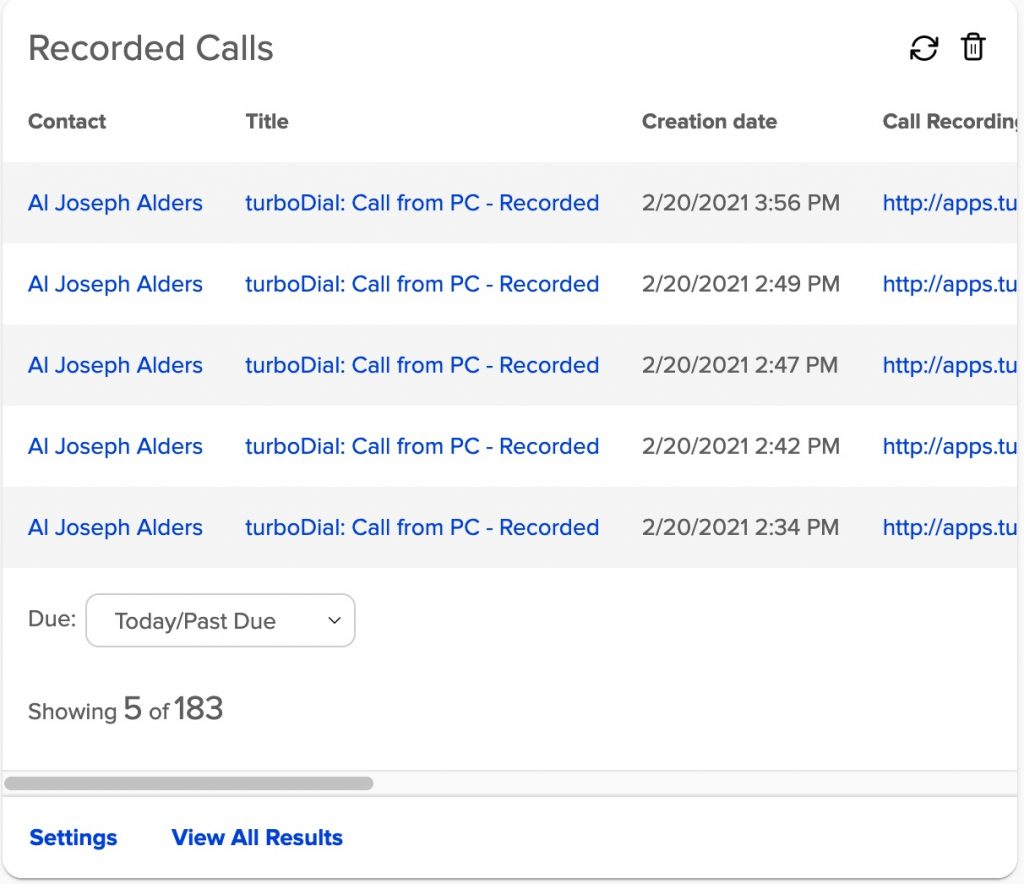 The Add Widget button can also be used to add Custom Statistics, and multiple Custom Statistics widgets can be added to the Dashboard to organize data. A Custom Statistics Widget can contain multiple line items that you define based on previously generated Saved Reports.
Example Custom Statistics Widget on Dashboard

Infusionsoft provides the following useful link to get started: Infusionsoft Customize-the-home-page-dashboard. Note Item 5 on the Custom Statistics Widget, and Item 8 on the Saved Search or Saved Report Widget.
Before you begin building reports, be sure you understand the basics of the Call Note Records created by turboDial:
See Call Note Records – Automatic Call Notes for information on how Inbound, Outbound and SMS Call Note records are titled.
See Call Note Records – Call Note Custom Fields for how to setup your Call Note custom fields, including Call Outcomes. Reports based on specific Call Outcomes can reveal the effectiveness of your calls. Other custom fields such as Duration (in seconds) and Inbound Number are also defined here, and these fields are useful to include in reports.
See the menu on the left of your screen for more information about Reports and working alongside Infusionsoft.