turboDial identifies Users by the email address portion of their Keap ID, and their Keap IDs must be active and enabled for your Keap account.
Video Overview:
Adding & Removing Users
All changes to your Authorized User list are made in your turboDial Management Account at https://sd123.customerhub.net on the Add/Remove Users page. Edit the form contents found there by adding and deleting email addresses, listing them one per line.
The email addresses you add in the form must already exist as users in your Keap account, and each newly authorized user will login to turboDial using their Keap ID email address.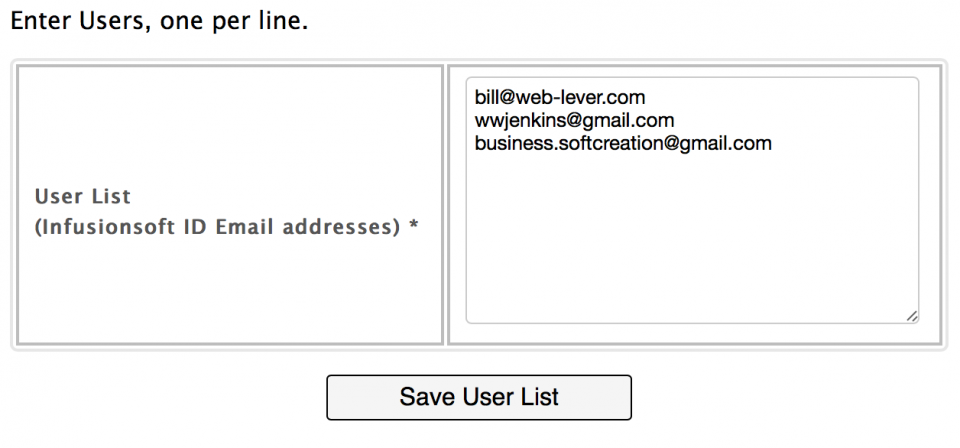 (If you have forgotten the account owner's login info for the turboDial Management Account then submit the account owner's email address in the form in the right-column of this page and those details will be emailed to them)
You cannot modify your User list from within the turboDial panel.
All Users in your turboDial account share your single common Twilio account for voice calls and SMS messages.
turboDial Does Not Email to Your Users
All communication to the turboDial Users in your account is the responsibility of the account owner. turboDial will not send email to your users.
The account owner must forward all important emails to the users, and that includes the browser extension installation instructions that are re-sent to the account owner each time a change is made to the Users list.
Account Owner vs. Authorized User
When you first signup for turboDial your account is enabled for 1 User and that User will be set as the same email addresses as the Primary Account Owner – the email address used to sign up for turboDial. But the Primary Account Owner is not required to be a turboDial User and you may replace that email address with another User's.
So, the Account Owner is not required to be an authorized turboDial user, and if they are not authorized they can still launch and login to turboDial to take care of administrative functions.
The Additional Users Subscription
Your turboDial subscription comes with support for one User. Each additional User you add will be charged at an additional per-user price.
When you add additional Users in your account a new "Additional Users" subscription is created for you, and this subscription is maintained separately from your base turboDial subscription.
Your base turboDial subscription price will cover the subscription plus the cost of Add-Ons that are not priced per-User (the Campaign SMS add-on is an example).
Your Additional Users subscription will change to reflect the number of Additional Users you have configured and the cost of Add-Ons that are priced per-User (the Power Dial add-on is an example).
So, you can add and remove Users and Add-Ons as desired, and each change in the number of authorized Users or Add-Ons will result in a change to your subscription charges.
Why Separate Users?
You will want to authorize each of your team members with a separate login ID for turboDial for these reasons:
This will avoid the security problems that come from sharing login & password information.
This will avoid the possibility of 2 Users logged in to turboDial with the same login ID at the same time. If that were allowed the phone calls would not be reliable since Users could collide in their actions. So turboDial does eventually detect a double login and forces one of the instances to logoff.
The automatic call notes that turboDial creates after each outbound call will be assigned to the logged in User and your Reports can then show calls and results on a per-User basis. If logins are shared then there will be no means to differentiate per-User results in your Reports.