This use case is for you if:
Your team's size and membership varies
You want the automated emails and SMSs sent to prospects personalized to the assigned sales rep.
You can easily personalize your automated communications by using assigned phone numbers in turboDial and merge fields in Infusionsoft. Read on to learn how.

Assign an Inbound Phone Number to Each Rep
To assign each rep an inbound number, you'll first need to acquire one for each sales rep. Instructions on doing so are found here:
http://support.turbodial.biz/docs/inbound-calls-phone-numbers/inbound-step-1-acquire-an-inbound-number/
After acquiring the inbound numbers they will each need configured, one at a time. Follow these steps for each number:
Set the Inbound&SMS selector to one of the numbers then click the red pencil icon to the right of Inbound&SMS
On this screen, fill the rep's Infusionsoft ID Email address into these fields:

Assigned User's Infusionsoft Email ID
Inbound Call Screen Pops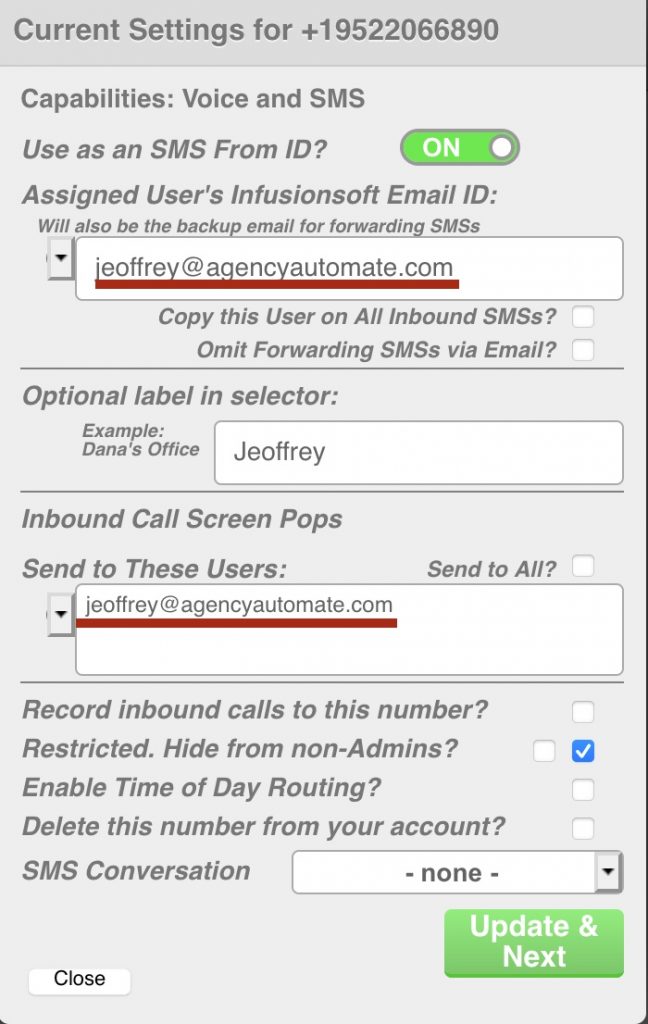 3. Fill the rep's name into the "Optional label in selector" field.
4. Click Update & Next, to be taken to the second screen.
5. On the second screen, fill in the rep's Infusionsoft ID Email address into the Destination field so they can answer in their turboDial panel when their number is called.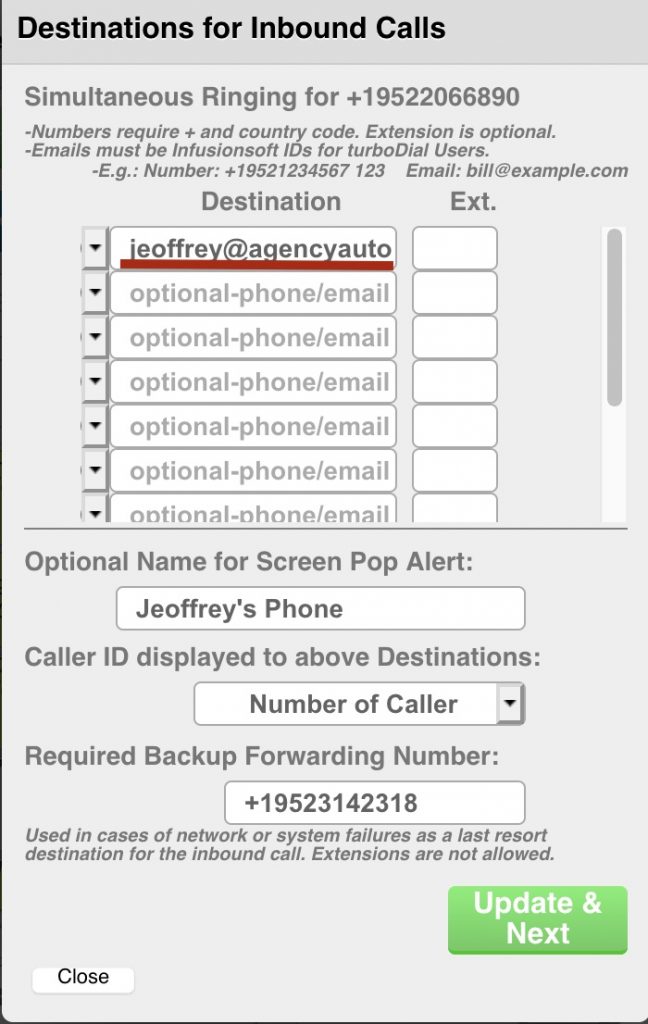 6. You can also enter something like the name of the Sales Rep assigned to this number in the Optional Name for Screen Pop Alert field.
7. This article gives more details on assigning phone numbers to specific users: http://support.turbodial.biz/docs/new-doc/assign-a-number-to-a-user/
For example, it will help you setup Voicemail for each of your users.
Use "Merge Fields" in All Automation
Next, I recommend establishing these conventions in your Infusionsoft account:
1. Ensure all Contacts are assigned an owner before sending them personalized content such as emails or SMSs. It's recommended having an Infusionsoft Round Robin distribute ownership across the sales reps in your team, even if you don't yet have multiple reps.
2. Ensure each sales rep's Infusionsoft user record information is up-to-date, specifically their first name, email address, and phone 1 info. These values will be merged into emails and SMSs so it is important to choose them correctly.
Each user's phone 1 needs to contain the Inbound Number previously acquired and assigned to them, and their email address should be their Infusionsoft ID email.
3. Use Infusionsoft's Task Note Report to track each sales rep's calls and SMSs—each rep needs their own report(s). For a step-by-step example of creating such a report for phone calls, please refer to the guide below: http://support.turbodial.biz/docs/reports-metrics/reports-about-calls/example-report-1-calls-for-a-user/
4. Use owner merge fields in each of your automated emails and SMSs. For emails, the 'from' email address should be the owner's email, and configure the return address and signature similarly.
Configure turboDial Campaign SMSs to use the below merge fields as follows:
– Owner ID into the 'userId' field
– Owner Phone 1 into the 'from' field
– Owner Email value into the 'reply' field
– if the 'message' field includes sale's rep name or anything sale's-rep specific, replace it with its corresponding merge field or remove it altogether.
These steps ensure SMS Note Records are assigned to the right sales reps, and SMS replies delivered to the correct sales rep.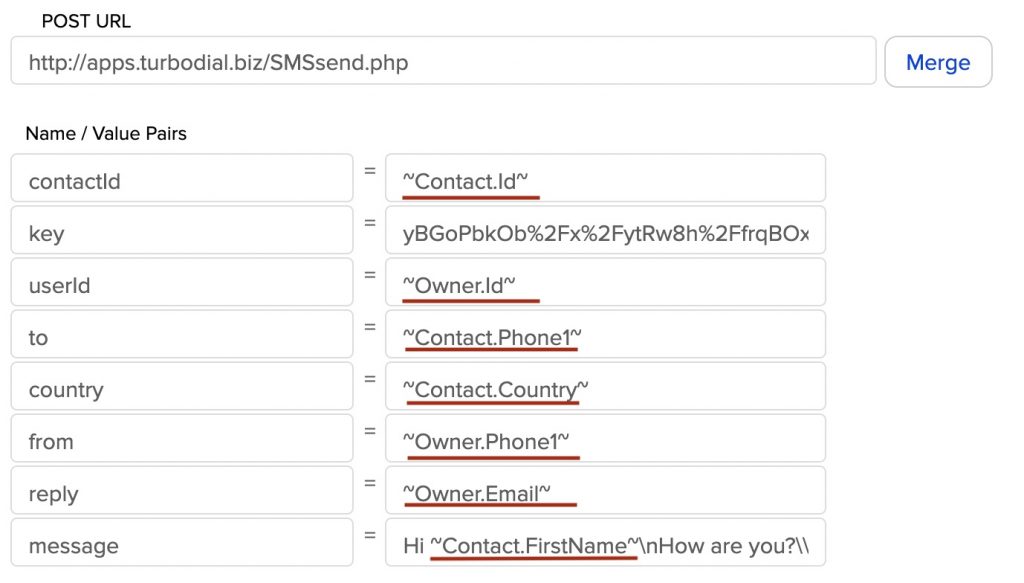 Changes in Team Size
When you add a new Infusionsoft user (team member), make sure that their Email and Phone 1 fields in their Infusionsoft User Records include the correct information. If you are replacing an Infusionsoft user, make sure to first add the replacement user first, then deactivate the other user. One of the steps during the deactivation process will allow you to assign the replaced user's Contacts and Tasks to their replacement.
Summary
After completing the above steps your automation will seamlessly scale from one to many reps without having to worry about sending customers impersonalized content, or having inbound messages routed to the wrong sales rep.