You can limit the Infusionsoft Tags included in the "Apply Tag" selector in your turboDial App to only include the Tags from the Tag Categories you specify.
If you find there are too many Tags to easily navigate in your Apply Tag selector, you can specify a list of Tag Categories in your turboDial Management Account. You must copy the exact name of the Tag Category as provided in your Infusionsoft account.
Example
Here's an example showing what a list of Categories may look like:
Industry Segments
Current Campaign
Products
Update Your Tag Categories
You can Add and Remove the Categories you want accessible in turboDial using the form available in your turboDial Management Account.
Assigning Departments to Tag Categories (additional Tag restriction)
Tags displayed in turboDial can be further restricted by department: users can be assigned to at most one department, and tag categories can be assigned to departments. If the tag category and a user both have department assignments, then tag category is only viewable if they match.
Departmentalized tag categories are only be viewable by users assigned to a department associated with a tag category.
Tag categories assigned zero departments are viewable by all users.
To assign departments to tag categories, go to this page of your turboDial Management Account.
Category:<dept> to a given tag category. If you want to limit the category by multiple departments, continuing appending :<add'l dept> to a Category:<dept> list.
In the example below, the sales and HR departments are assigned to the Status Tag Category, History is assigned zero department(s) making it viewable to all users, and the sales and analytics departments are assigned to the Sales Tag Category: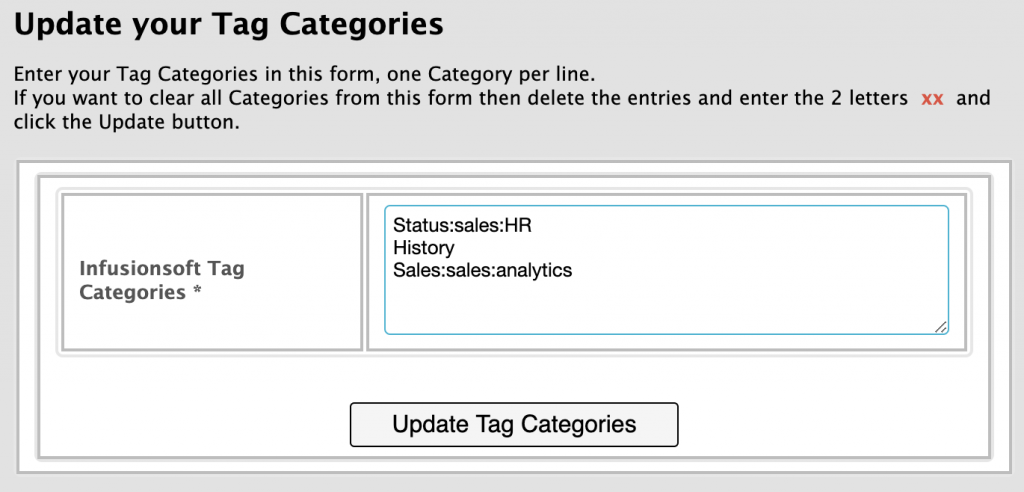 After doing that, you will need to assign users to departments. For steps on doing that, please refer to the Assign Users to Departments section of this guide.