Campaign SMS  – $10 Upgrade
If you have a paid subscription to turboDial you can upgrade your account to enable the Campaign SMS add-on. The cost of the add-on is $10/month and that covers all Users in your turboDial account.
Login to your turboDial Management Account at https://sd123.customerhub.net to find your upgrade button (paid subscription accounts only). You can also find a "Downgrade" button there – you can remove this feature at any time.
Overview
The Campaign SMS feature allows you to send an SMS text message using the automation of your Infusionsoft campaign. And the SMS text messages you send this way are like the SMS text messages you send using the turboDial panel because any message you send can be replied to, and those replies will be routed to the right person who can reply back and engage a real-time conversation via SMS.
The Campaign SMS feature is designed to help you automatically initiate personal interactions with your customers and prospects. For example, when a prospect fills and submits a web form on your website you can use this feature to have an SMS text message sent to them immediately. And that message can have a call to action and invite them to reply. Their replies will be sent to you or your designated User and when you receive it you have a great opportunity for a real-time conversation that could close the deal!
You can use automatic text messages for any kind of notification, like "your order is ready" or "your appointment is today". Or trigger an SMS to be sent using turboDial's Call Outcome Automation feature, for example "Just left a voice mail – when can we talk?"
You can also use Campaign SMS to send a URL link and then trigger a goal in your campaign when that link is clicked.
This Campaign SMS feature is not intended to support broadcast marketing from your Infusionsoft account. Don't use it to send a message to large number of Contacts at one time.
Sending a Campaign SMS
With the "Campaign SMS" feature you can configure any Infusionsoft campaign to send an SMS text message to your contact using turboDial. You will use the HTTP POST process in a campaign sequence and set up the HTTP POST according to the instructions provided.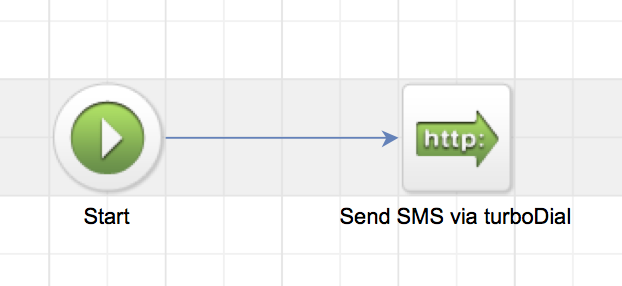 The HTTP POST configuration looks like this:
You should visit your turboDial management account for full instructions, and you will be able to copy & paste many of the values directly into your HTTP POST.
ALWAYS USE COPY & PASTE TO FILL IN THE HTTP POST FIELDS!
Otherwise it is too easy for a small mistake to cause a failure.
POST URL
Use this address in the POST URL field:
http://apps.turbodial.biz/SMSsend.php
Explaining Each Name/Value Pair
Note that every Name is in lower case, except for contactId and userId which have a capital 'I' and callName which has a capital 'N'

The contactId is the ID number Infusionsoft assigns to each contact. It is a non-zero number. You will always use a merge field for this, as shown above.
The key is the encrypted string turboDial assigns to you. Your key is provided in the field above and you can copy it to your clipboard. Be sure to capture the entire string when you copy it.
The userId is the ID number Infusionsoft assigns to each User who can login to your Infusionsoft account. It is a non-zero number. The userId is used by turboDial to assign proper ownership of the Note record that is added to the Contact when the SMS is sent. In many cases you can use a merge field to insert the userId, as shown above.
The to value is the phone number where the SMS text message is to be sent. You will use a merge field for this as shown above.
The country is the Country in the Contact's Billing Address, and is used by turboDial to properly format the phone number. If the country field is not filled in and if the to phone number is not in International dialing format, then turboDial will configure the number using the Country of the turboDial account owner. You will use a merge field for this as shown above.
The from value is a SMS-enabled phone number that you have acquired in the "Inbound & SMS" section of your turboDial account.
The reply value is the email address of the User to whom replies to this SMS should be forwarded via email. You can often use a merge field for this as shown above.
The message value is the text body of your SMS text message. It can be up to 1000 characters long but you should restrict it to 140. You can use merge fields in the message, as shown in the partial example above. We recommend you do not include web URL links in your message; use the link value instead.
The

link

value (optional) is a web URL that will be added at the end of your message text. Your URL must begin with http:// or https:// . If the URL is longer than 22 characters then it will be shortened with a shortening service so that it uses only 22 characters, however clicking it it will still arrive at the web page specified by your URL.
The callName value (optional) is an Infusionsoft Campaign Builder API Goal "Call Name" value. If you have provided a link value then you can specify a Campaign Builder API Goal that will be triggered when the link is clicked by the contact who receives the text message. The API Goal in your Infusionsoft Campaign must have an "Integration" value of 'LinkClick'.  The callName value can only include letters and digits, and it cannot have spaces or punctuation.
Note Record
An SMS sent from a campaign will function just like any other SMS you send using turboDial, which means a Note record documenting the SMS will be left on the Contact record allowing it to show up in your Dashboard reports.
That Note record also allows replies to the SMS message to be routed correctly (see below).
Intended Purpose
This Campaign SMS feature is useful for any situation where you want to automatically notify a Contact based on action the Contact has taken – for example, send a "next step" message when they submit a web form. And when that Contact replies to your automated SMS the reply can go directly to a person in your company who can immediately engage and begin a real-time conversation with that Contact.
So, you can see that Campaign SMS is intended to be a personal communications tool.
But please note, this Campaign SMS feature is not intended for broadcast marketing. Do not use it with the intention of sending an SMS to a large number of Contacts at one time. The Carriers monitor usage and will shut down messages they consider to be broadcast marketing. Broadcast marketing is intended to be sent from Short Code numbers rather than regular phone numbers.

Sending Volume
The Campaign SMS feature will allow your campaigns to send a total of 3 SMS text messages per minute. If your campaigns send at  pace faster than 3 per minute that's OK, because the extra messages will be queued and sent on a first-in-first-out basis. However, that queue is limited to 180 messages, so if your campaigns continue sending messages at a pace faster than 3 per minute you will eventually reach the limit of your queue and messages after that point will be dropped and you'll see a '402' error code for the HTTP POST in your Campaigns tab on the Contact Record.
So, if you design your campaigns to send an SMS message in response to customer activity then you won't have a problem with the sending volume. But if you manually start the SMS campaign by adding a large number of contacts to the campaign at one time then you may reach the volume limits.
Routing for SMS Replies
Contacts who receive an SMS Text Message sent using this Campaign SMS feature can reply back via SMS. See "Case 4" in this guide section for full information on how those replies are routed in your team.
Optional Tracking Link
The link and callName values in your HTTP POST can be used together to create a tracking link, similar to a tracking link in an email sent from your Campaign Builder automation. When the SMS tracking link is clicked an API Goal you have setup in your Infusionsoft Campaign will be triggered.
The API Goal in your Infusionsoft Campaign must be setup as follows:
Integration:  LinkClick
Call Name:  <the value you configure in your HTTP POST>
Here's an example Campaign for Link-Click Tracking:
Here's the internal configuration of the API Goal that will be triggered when the link is clicked:
Here's an example of the SMS sent using the HTTP POST shown above.  Note how the URL has been shortened.